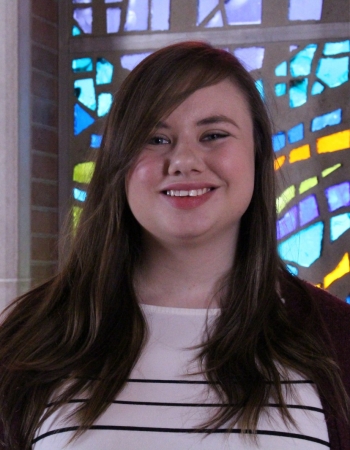 Director of Next Generation Ministries
765-643-6977
Favorite TV show / movie:  My favorite TV shows are Jeopardy and Detectorists, and my favorite movies are Pride and Prejudice and Won't You Be My Neighbor.
Favorite book: The Irresistible Revolution by Shane Claiborne
Favorite music or band:  My favorite music spans most genres: rock, folk, blues, rap, pop. My favorite band is The Beatles.
Favorite Bible verse:  Mark 8:1-10; 14-21
Family:  I am the youngest of seven siblings, aunt to many nieces and nephews, and cat owner to Lucy, Ellie, and Jude.
Hobbies:  I love knitting and reading, visiting different state parks, and telling and listening to stories.
What led you to (and keeps you in ministry)?:  I was led to ministry by a desire to serve and live out the great commission. Being in ministry, I am able to witness sacred moments, both small and large, of connecting with God and the formation of faith and experience profound questions and grace offered by even the youngest of those worshipping amongst us.  
What led you to (and keeps you at) Anderson First United Methodist?:  I was invited to Anderson First United Methodist by a friend as a teenager, and I have stayed because of the relationships that have been built and transformed to feel like family.
What do you like most about Anderson?:  There is so much potential in Anderson, and there is a rising population of people who are eager to find the beauty in Anderson, empower leaders and builders, and strive for transformation.
What do you like most about Anderson First United Methodist?:  The members at Anderson First United Methodist continue to impress me with their drive to serve, imagine, and create. There always seems to be new ideas being proposed or generated and I love being apart of a congregation willing to adapt and welcome changes while honoring tradition.