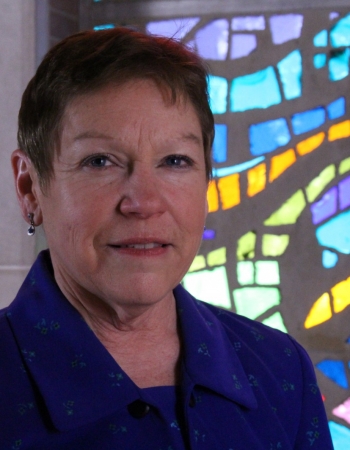 Senior Pastor
765-643-6977
317-902-1843
Favorite TV show or movie:
-Movies: "The Sound of Music" "Theory of Everything" "New Years Eve"
-TV: New Amsterdam; Frasier reruns
Favorite books: Bible; favorite book in the Bible: Luke; Daniel Migliore's Faith Seeking Understanding; Joseph Girzone's Joshua; John Grisham novels
Favorite music or band: Smooth Jazz; Favorite hymn: "Joyful, Joyful We Adore Thee"; Favorite song: "Happy" by Pharrell Williams
Favorite Bible verse: Philippians 4:4-7…"Rejoice in the Lord always. I will say it again: Rejoice!  Let your gentleness be evident to all. The Lord is near.  Do not be anxious about anything, but in every situation, by prayer and petition, with thanksgiving, present your requests to God. And the peace of God, which transcends all understanding, will guard your hearts and your minds in Christ Jesus."
Family: Three beloved children, their spouses and granddaughter: Andrew and Jaimie Boruff live in Pendleton; Rebecca, Sani and Nora Maiki live on the west side of Indianapolis; Ben Boruff and girlfriend Lauren Makarauskas live in Merrillville.
Hobbies: Walking/hiking; canoeing/kayaking; camping; house plants; reading; family
What led you to (and keeps you in) ministry?: My call to ordained ministry came after years of teaching at Cowan High School. God's call first came as a lay person to volunteer in the church which I faithfully filled for 14 years as a volunteer staff member. My later call from God to ordained ministry was to equip others to recognize God's call in their lives – calls to minister in the name of Christ wherever they work and in whatever walk of life they are in. This is a call everyone has! I stay in ministry thrilled to see where God is at work next!
What led you to (and keeps you at) Anderson First United Methodist?: As a United Methodist pastor, I have lived by the motto: "Will serve wherever God calls me to serve." I rejoice that God called me to AFUMC! This church is rich in a history that informs how the Holy Spirit leads it today. It is a congregation mindful and empathetic to others in every walk of life. I am excited to be a part of what God is doing here and in the community through them.
What do you like most about Anderson?: Anderson has become home and for an itinerate UMC pastor being "at home" is huge! I see a community that is reawakening to the potential, the promise and the gifts found in its people. A prime location for growth, this is a city reclaiming its importance.
What do you like most about Anderson First United Methodist?: The passionate Christian people, the variety and excellence in music, the heart for youth and children, the eagerness found in every age to learn and share the Good News, the outreach to others in the community and around the world, are among the things that I appreciate most about AFUMC. This is a church that lives into making disciples for Jesus Christ.