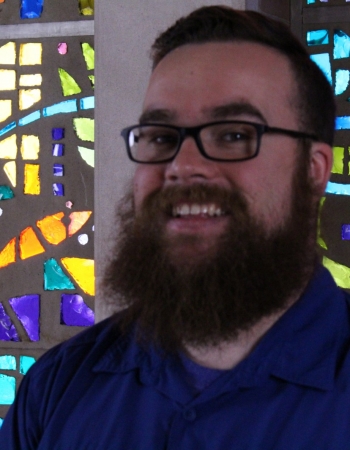 Favorite TV show or movie: The Office is by far my favorite show on TV. I've watched it more times than I care to admit! I'm a huge fan of movies, too.  I typically see 1-3 per week and volunteer as a screener for the Heartland Film Festival.  My favorite movie right now would have to be Whiplash.
Favorite book: I'm a classic nerd who still loves the Harry Potter books.  A Man Called Ove and The Brothers Karamazov are some of my other favorites.
Favorite music or band: I listen to a lot of different music, but gravitate towards Jazz and Folk/Americana.  Kamasi Washington, Miles Davis, The Decembrists, and The Last Bison are some of my favorite artists.
Favorite Bible verse: I can honestly say that I don't have one favorite verse.  I enjoy reading the Bible and finding new favorite passages/verses all of the time!
Family: I'm married to my lovely wife, Lizzy McGrevy-Shriver.  We have a dog named Albus Dumblepaws.
Hobbies: Board Games are by far my biggest hobby.  We have around 250 games in our collection!
What led you to (and keeps you in) ministry?:  I was led into ministry in 9th grade after my youth leader gave a message.  I felt called to work with students from that point on and I've been serving as a Student Minister since 2009.  I currently serve on the Family Ministry staff at Noblesville First UMC.  In addition to Family Ministry I feel called into the ministry of building community.  I'm excited to serve in that role as Digital Community Manager here at Anderson First United Methodist.
What led you to (and keeps you at) Anderson First United Methodist?: The power of community is immense.  I got the opportunity to help Anderson First United Methodist build their community through technology and have not looked back!
What do you like most about Anderson?: Jackrabbit Coffee makes Anderson worth the drive for me!
What do you like most about Anderson First United Methodist?: I love the history behind the church – especially in the Sanctuary of the building.  The stained glass windows are breathtaking.